Events
Upcoming Events

Cognitive Avoidance – How Cognitive is it? Psychophysical Evidence for Early-Stage, Face-Selective Configural Processing
3:00pm – 4:30pm
AT 2019, Lakehead University, Thunder Bay Campus
We are pleased to announce an upcoming installment of Psi Chi's Invited Speaker Series, featuring a talk by Dr. Michael Wesner entitled Cognitive avoidance – How cognitive is it? Psychophysical evidence for early-stage, face-selective configural processing. The talk will immediately follow a brief induction ceremony welcoming our new members to the Lakehead University Psi Chi chapter. All are welcome and encouraged to attend. Refreshments will be provided. Please see the attached poster for more details on Dr. Wesner and his upcoming talk.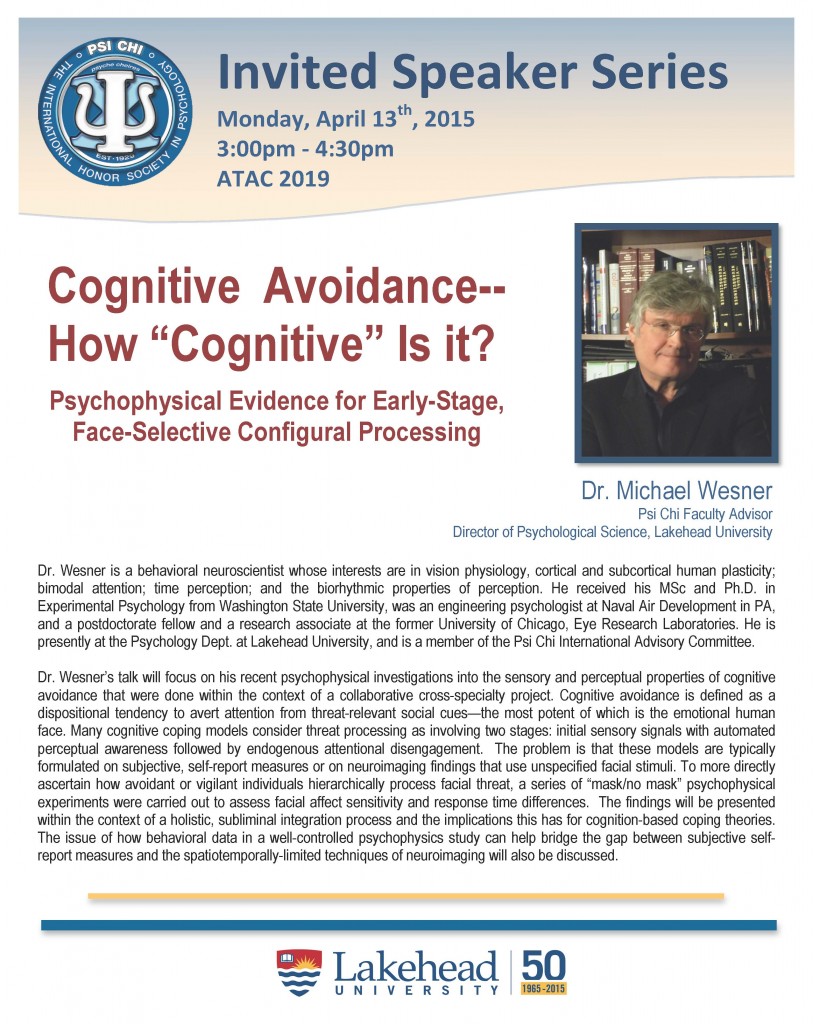 Past Events
Friday, 24th October, 2014


The Psi Chi Lakehead University Chapter proudly to hosed two presentations by Dr. Scott Lilienfeld from Emory University, Georgia.  Dr. Lilienfeld is an eminent multiply award-winning clinical psychologist who has written numerous articles and books on several topics in psychology, all of which promote the scientific basis of psychology.  His work is very influential and thought-provoking, is of great interest to both psychologists and non-psychologists, and has relevance to contemporary society and the general public. Please see the linked posters below for more information about Dr. Lilienfeld and his two featured talks.
Behind the Mask: The Search for the Controversial Successful Psychopath
Friday, 24th October, 2014
2:00pm – 3:30pm
UC 1017, Lakehead University, Thunder Bay Campus
Science and Pseudoscience in Everyday Life: A Field Guide to Evaluating Extraordinary Claims
Friday, 24th October, 2014
5:00pm – 6:30pm
AT 1003, Lakehead University, Thunder Bay Campus